McDonald's plans further expansion as sales slip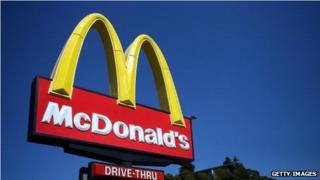 McDonald's, the world's biggest fast-food chain, says it plans to open up to 1,600 outlets this year despite a slip in global sales.
The chain, which has 34,000 sites around the world, said overall sales fell 0.1% in the last three months of last year.
The company said 2013 had been a "challenging year".
Meanwhile, sales at global coffee chain Starbucks, rose 5%, although that was lower than hoped for.
Profits for the three months to the end of December rose by 25% to $541m (£325m).
Chief executive Howard Schultz said the reason growth had not matched last year's 8% was because of the rise in online shopping.
He said: "Holiday 2013 was the first in which many traditional brick-and-mortar retailers experienced in-store foot traffic give way to online shopping in a major way."
Smoothies
At McDonald's, sales in the US dipped by 1.6%, with a bigger fall of 2.6% in the faster-growing economies of Asia, the Middle East and Africa.
Sales in the UK and the rest of Europe proved more robust, rising by 1% in the fourth quarter.
McDonald's has been fighting hard to position itself as a food business that can cater to healthy eaters.
The company has been serving a wider range of goods, including smoothies and salads, but has faced stiff competition from rivals Wendy's and Burger King.
McDonald's income for the three months to the end of December was barely higher than a year ago at $1.4bn (£842,000).
The chain opened its first UK outlet in 1974.