Hornby train sales hit by supply problems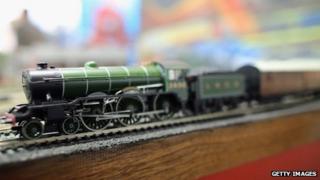 Model train maker Hornby has warned that sales for the current financial year will be below expectations because of supply chain issues.
The company also said that sales would be below last year's total following problems with a "major supplier" of its model railway products.
It said it had now agreed a "managed exit" from trading with this supplier.
In addition to Hornby model trains, the company also owns brands including Scalextric and Airfix.
Last Updated at 22 Sep 2017, 15:30 GMT
*Chart shows local time
| price | change | % |
| --- | --- | --- |
| 29.25 p | 0.00 | 0.00 |
Hornby said it now expected to report a £1m loss for the year to 31 March. Shares in the firm were down 6% in morning trade.
Due to the problems with getting supplies of rail products, Hornby said that it expected model rail purchases for the year "to be approximately 61% of our budget in the UK and 68% in Europe".
This compares with forecasts of 88% and 80% respectively when the company issued its half-year results in November.
Despite its supply problems, Hornby said sales in December were "reasonably strong", particularly for Airfix and the new model rail products it had.
"Whilst the outlook for the year is disappointing, we have used this year of management change to make some important decisions that we are optimistic will enable us to return to growth," said executive chairman Roger Canham.
"The board is encouraged that from here, we will have a more solid supply base from which we can grow our market share in the UK and European markets."