Asian stocks fall on emerging markets growth fears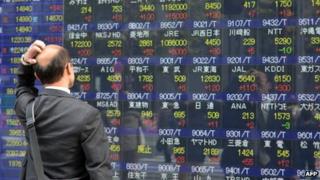 Asian stocks have fallen on investor worries that a slowdown in US economic stimulus policy will hurt growth in emerging markets.
There has been speculation that the US may scale back its monthly bond-buying programme further in the coming days.
Meanwhile, concerns over tighter credit conditions in China and the impact this is having on its growth rate, also dented investor confidence.
Stock indices in Japan, Hong Kong and South Korea all tumbled.
Japan's Nikkei 225 index tumbled 2.5%, Hong Kong's Hang Seng fell 2.1% and South Korea's Kospi shed 1.56%.
Investors have also been rattled by the recent fall in the Argentinian and Turkish currencies.
Last week, Argentina's peso saw its sharpest one-day fall since the country's 2002 financial crisis. It plunged 11% against the US dollar on Friday after the central bank unexpectedly abandoned its efforts to support it.
The Turkish lira has also been volatile, falling to an all-time low in recent weeks, on concerns that a corruption scandal may destabilise the government.
The country's central bank said it will hold an interim monetary policy meeting on Tuesday evening, with speculation growing that it may decide to increase interest rates.
The Turkish lira strengthened to 2.35 against the US dollar on the news, up from its earlier low of 2.39.
Tapering effect?
The US central bank has been running a stimulus programme, known as quantitative easing, aimed at boosting its economy following the global financial crisis.
Under the programme, the US Federal Reserve had been buying bonds worth $85bn (£51.8bn) per month.
The measure is aimed at keeping interest rates low and boosting economic activity in the country.
However, some of the increased liquidity has flowed into emerging markets - including those in Asia over the years, lifting stock and asset prices in those economies.
Last Updated at 04:43 GMT
As the US economy showed signs of recovery, the US central bank announced in December that it planned to scale back the programme by $10bn per month.
There has been growing speculation that the Fed may reduce its bond purchases by another $10bn per month at its meeting this week.
As the US scales back the programme, investors could pull out of emerging markets, resulting in a further fall in stocks and currencies in those economies.
Analysts said such concerns were a key reason behind the recent sell-off in Asian markets.
"Everyone was reminded about last May's turmoil when investors unwound their positions in emerging markets on worries about [the] Fed's tapering," said Norihiro Fujito, a senior investment strategist at Mitsubishi UFJ Morgan Stanley Securities in Tokyo.
Earlier this month, the World Bank also warned that while the global economy was at a "turning point", growth prospects "remained vulnerable" to the impact of the withdrawal of economic stimulus measures in the US.