Moody's cuts Sony's credit rating to junk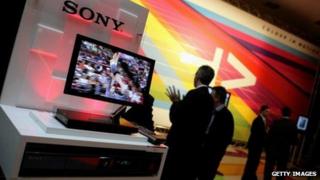 The Japanese electronic giant, Sony, has had its credit rating cut to junk status by ratings agency Moody's.
Moody's said it expected earnings from Sony's core businesses to continue to face "significant" downward pressure.
It said it was especially concerned about the firm's TV and personal computer (PC) business, both of which face "intense" global competition.
Sony, which has been struggling for some time now, lowered its full-year profit forecast by 40% in October.
It said at the time that it expected to make a net profit of 30bn yen ($290m; £177m) in the financial year to 31 March 2014. That was down from its earlier projection of 50bn yen.
"The rating actions reflect Moody's view that, while Sony has made progress in its restructuring and benefits from continued profitability in several of its business segments, it still faces challenges to improve and stabilise its overall profitability," Moody's said in a statement.
Moody's downgraded Sony's rating to Ba1 from Baa3.
'Cannibalisation'
Many of Sony's key consumer electronic businesses have been affected in recent years by a range of factors.
Its TV division it has been hit by increased competition, slowing demand and falling prices.
Meanwhile, its digital cameras and PC business have fallen back in the face of the growing popularity of smartphones and tablets - a segment where Sony has not been able to make a significant impact.
Moody's said Sony's key divisions were likely to remain under pressure in the near term.
"The primary reason is intense competition and the shrinkage in demand, the result in turn of cannibalisation caused by the rapid penetration of smartphones," Moody's said in a statement.
The ratings agency said that while Sony had taken steps to cut costs and improve profitability, the benefits of those steps were emerging "slowly" and its key segments "seem unlikely to soon regain the robust profit levels seen historically".