Libor warning from regulator for two bankers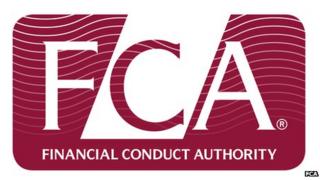 The regulator, the Financial Conduct Authority (FCA), has sent warning notices to two people allegedly involved in Libor rate fixing.
It is the first time the FCA has issued such notices under new powers granted after the Libor rate-rigging scandal.
Libor - the London Interbank Offered Rate - is the rate at which banks make short-term loans to each other.
The investigations are in the "early stages", a spokeswoman told the BBC, and could take up to 18 months.
The enforcement process could result in potentially unlimited fines, a ban, or both, she said.
Libor rates underpin trillions of pounds worth of loans and financial derivative contracts. Banks tried to manipulate the rate to appear stronger than they were at the height of the financial crisis, and to boost profits on certain trades.
One unnamed former senior manager at a bank is accused of "significant failings in relation to an interest rate benchmark" over a period of three years, the FCA said.
The individual condoned traders' attempts to manipulate benchmark interest rate submissions, and the submitters' collusion in the deception, the FCA alleges.
The other warning notice applies to a bank employee responsible for submitting benchmark interest rates.
The submitter bowed to traders' requests to rig rates over a two-year period, the FCA said.
Enforcement powers
Last month the FCA authorised ICE Benchmark Administration (IBA) to administer Libor. IBA took up the role this month, but enforcement powers remain with the FCA.
The British Bankers' Association was stripped of its Libor-setting role in 2012 following a series of rate-rigging scandals that led to multi-million pound fines for a number of international banks.
Between January 2005 and June 2009, Barclays derivatives traders made a total of 257 requests to fix Libor and Euribor, the European equivalent rate, according to a report by the Financial Services Authority, the now-defunct regulator.
The scandal ultimately led to the resignation of Barclays chief Bob Diamond and fines for the bank totalling £290m imposed by UK and US authorities.
In October 2013, Dutch-owned Rabobank was fined 774m euros (£640m) for its role in the Libor rate-fixing scandal.
Other banks, such as HSBC and Royal Bank of Scotland, were also implicated.