Barclays chief waives bonus of up to £2.75m for 2013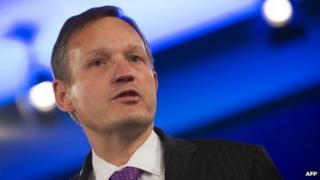 Barclays chief executive Antony Jenkins has turned down a bonus of up to £2.75m for 2013 due to costs incurred by the bank to deal with past problems and its £6bn ($9.8bn) fundraising.
He said in a statement that taking a bonus "would not be right, in the circumstances".
Barclays had been involved in what he called "legacy litigation and conduct issues" during 2013.
It is the second year running that Mr Jenkins has waived his bonus.
Other Barclays executives are also entitled to a bonus, but it is understood that they have not yet taken a decision on whether to forgo the money.
'Significant costs'
Mr Jenkins said in a statement: "2013 has been a year of considerable positive change for Barclays, and I am particularly proud of the progress we have made in starting to rebuild trust, in defining and implementing a common culture, in repositioning the business for the future, and in significantly improving our balance sheet.
"While all of these actions are in the long-term interests of our shareholders, I am aware of the very significant costs which have been required to address legacy litigation and conduct issues in 2013, as well as to exit assets and businesses we no longer wish to participate in.
"When combined with the substantial rights issue we completed in the autumn, I have concluded that it would not be right, in the circumstances, for me to accept a bonus for 2013, and I have therefore respectfully declined the one offered to me by the board."
Mr Jenkins would have been entitled to a payout of up to £2.75m, calculated as 250% of his £1.1m salary.
He also declined his annual bonus for 2012, meaning he has yet to receive the payout since taking over at the bank in August 2012.
At the time he turned down that bonus, also about £2.75m, Mr Jenkins said it had been a difficult year for the bank, with Barclays having been implicated in mis-selling scandals and other issues.