MPs: Cash payers are being 'ripped off' by energy firms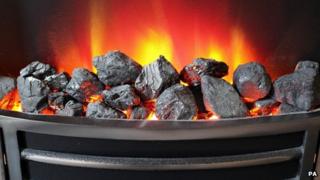 Energy companies have been accused of "ripping off" consumers who do not pay their bills by direct debit.
Government figures show that those paying by cash or cheque typically pay £114 a year more than those who make an automatic payment.
Nearly 200 MPs have signed a House of Commons motion calling for an enquiry by the regulator, Ofgem.
Energy companies responded by saying that the charges reflect the higher costs of processing the payments.
But Robert Halfon, a backbench Conservative MP, said they amounted to a tax on some of the poorest in society.
"Energy companies have been ripping the consumer off - have been fleecing the consumer- particularly the poor and pensioners, with their stealth tax for some time," he told BBC Radio's Five Live.
He wants to see a cap of £24 a year on charges, or £2 a month, similar to the amount charged by BT on phone and broadband bills.
Cross subsidy?
Mr Halfon's campaign has already made an impact on the Prime Minister.
Last week David Cameron ordered officials to investigate whether those paying by cash or cheque were subsidising those who pay by direct debit.
The regulator, Ofgem, said it was already looking into the issue of payment costs as part of its existing competition review.
In particular it said it was investigating whether one supplier, Scottish Power, had broken the rules.
Ofgem requires suppliers to charge the same for all methods of payment, unless it can be justified on cost grounds.
"Given public concern over these differences we urge suppliers to also look at how they can provide more reassurance to consumers that they are being set fairly," said an Ofgem spokesman.
Mr Halfon said 17 out of 32 energy companies charge more for cash payments, and that 45% of the country uses the more expensive method to pay their bills.
He said a million people cannot use direct debits anyway, as they do not have a bank account.
He also claimed that energy companies used the extra cash to track down those who do not pay.
"What they're saying is that they're imposing a cost on the pensioners and the poorest in order to pursue non-payers," he said.
'Small discount'
Energy UK, which represents most of the energy suppliers in the UK, said it was aware of Mr Halfon's concerns, and it would be happy to meet him to discuss the issues after Tuesday afternoon's debate.
It said it supported Mr Cameron's review of direct debits.
It told the BBC it could not confirm the figure of £114 a year, which comes from the Department of Energy and Climate Change (DECC).
However in a general statement on direct debits, it said that companies provided "a range of options that reflect the different costs of processing payments."
British Gas, the UK's largest energy supplier, told the BBC that the majority of its customers paid by direct debit.
"We offer a small discount on our normal rates to reflect the fact that it costs us less to administer this payment method," a spokesperson said.