Jaguar to build XJ model in India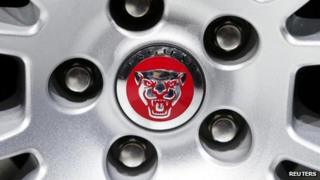 Jaguar has announced it is to build its XJ saloon car in India, but the company's chief executive has told the BBC he is "absolutely committed" to manufacturing cars in Britain.
Ralf Speth said the key to Jaguar's success was its "Britishness".
The XJ will become the third model from the Jaguar Land Rover (JLR) group to be built in India, following on from the Jaguar XF and the LandRover Freelander.
JLR has been owned by the Indian corporate giant Tata since 2008.
It has identified India as one of its key growing markets.
"We do have a parent company that is Indian and without this parent company, JLR wouldn't exist," said Mr Speth.
"But JLR is both English and British. It's the compelling combination of British design and engineering that differentiates us around the world. Look at the huge investment that we make in Britain, and at the way we hire people, and you can see we are committed to Britain."
JLR invested more than £1.5bn in its British manufacturing last year and created about 2,500 jobs. The company sold a record 425,000 cars in 2013, with sales now coming in 39 different markets round the world.
At the heart of this, says Mr Speth, is what he calls the "Britishness" of both the Jaguar and Land Rover brands.
"It's very important to us," he said. "We are the only company in the automotive world with three Royal warrants and that makes us special. All around the world, people want to be seen in a British vehicle."
The company has also launched a concept car called the CX17 to test the appeal of a Jaguar "crossover" - a smaller 4x4 car. And Mr Speth maintains he is not worried by the prospect of other upmarket challengers to the Range Rover, with both Bentley and Rolls-Royce considering producing their own sports utility vehicles (SUVs).
"We welcome competition," he said. "The SUV sector will grow so there's room for everyone."
On the prospect of new electric cars, though, he was more muted, saying: "At the moment these vehicles can only play a very limited role in modern mobility."