UK retailers cut prices at 'record' rate during sales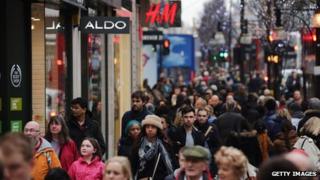 Retailers in the UK cut their prices during the January sales at the fastest rate in at least seven years, says the British Retail Consortium (BRC).
The industry body said shop prices were 1% lower in January than the same time in 2013, the biggest annual decline since the survey started in 2006.
It said prices had been falling for nine consecutive months.
Discounting in shops selling clothing, electrical equipment and furniture retailers was partly behind the fall.
The BRC also said prices had fallen in flooring, books, stationery, and home entertainment retailers, while DIY, gardening and hardware shops had entered "deflationary territory" in January.
Helen Dickinson, director at the BRC, said: "January is always a key month for sales and promotions but discounts have been deeper and more widespread than last year and we are seeing this trend continuing."
She said "hard-pressed" families would also benefit from the lowest rate of food inflation in almost four years, The rate fell to 1.5% in January.
Mike Watkins, from the market research firm Nielsen, which helped to compile the survey, said: "With the first few weeks of January a time when many households take stock of personal finances, the fall in shop price inflation will be a welcome boost for consumers."