Legal costs hold back Credit Suisse profits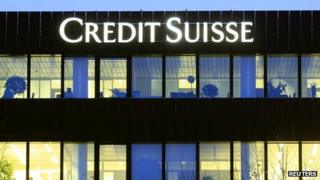 Profits at Swiss bank Credit Suisse have been held back by the cost of fighting legal battles with the US.
The bank has put aside a total of 514m Swiss francs($568m;£348m) to fight US investigations into alleged tax evasion and the mis-selling of mortgage-related products.
US prosecutors are chasing 14 Swiss banks for allegedly helping wealthy Americans dodge taxes offshore.
Fourth quarter net income rose to 267m Swiss francs from 263m francs in 2012.
For the full year net profits more than doubled to 3.07bn francs from 1.35bn in 2012.
Higher provisions
Provisions of 339m francs to cover litigation costs relating to the sale of mortgage backed securities forced the bank's investment banking division into a 40m franc loss in the fourth quarter.
Mortgage-backed securities are financial products backed by mortgages, many of which in the financial crisis of 2008 were proved to be worthless.
Credit Suisse's private banking and wealth management division put aside 175m francs to fight a U.S. investigation into hidden offshore accounts in Switzerland.
In both cases the bank said it was "working towards a resolution" with US authorities but did not give a time-frame of when that resolution might be reached.
Western European clients have been pulling cash funds out of Credit Suisse but the bank said it had attracted some 1.7bn francs in new funds from wealthy clients in emerging markets.
The bank is restructuring its businesses to reduce its reliance on interest rate trading in the investment bank. Its wealth management division has sold its German onshore private bank to ABN Amro group.