Myanma Air signs nearly $1bn plane leasing deal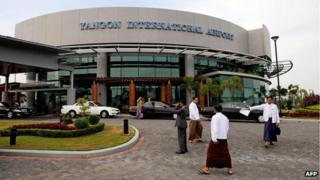 Burma's national carrier has signed a nearly $1bn (£584m) deal to lease 10 new Boeing 737 jets as it looks to revamp and expand its ageing fleet.
Myanma Airways will be working with GE Capital Aviation Services (GECAS), the world's largest leasing company, to upgrade its planes and flight routes.
The state-run company flies mainly within Burma, also known as Myanmar.
GECAS - a unit of US conglomerate General Electric - said the aircraft would be delivered by 2020.
"We are pleased at GE to work with Myanma Airways to provide new, state-of-the-art Boeing aircraft," GECAS president and chief executive Norman Liu said in a statement.
"This is an important milestone for the airline and for the development of Myanmar's aviation industry."
Myanma Airways currently operates the smaller Beechcraft and Cessna plans, as well as Fokker F28jets and ATR turboprops.
The carrier plans to expand its international routes to Japan and South Korea. Currently, its only external flight is to Buddhist pilgrim destination Gaya in India.
More routes
Burmese government officials and Boeing representatives signed the deal at the Singapore Airshow, Asia's biggest aerospace and defence show, on Tuesday.
The deal has a list price of $960m and will see leasing company GECAS rent the Boeing aircraft to Myanma Airways in exchange for a monthly payment.
US ambassador to Burma Derek Mitchell reportedly said the agreement was the "largest commercial sale" by a US company to Burma in decades.
Burma has only recently opened up its economy, triggering a tourist boom in the once-isolated country.
As a result, domestic carriers such as Myanma Airways have had to upgrade their planes to meet the spectacular growth and improve a spotty safety record.
Foreign carriers have also been looking to cash in on the lucrative market either by setting up routes there or through joint ventures.
Last year, Japan's biggest airline All Nippon Airways bought a 49% stake in Burma's Asian Wings Airways.