Train service satisfaction shockingly low, says Which?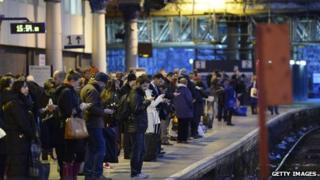 Customer satisfaction with Britain's train services is "shockingly low", according to a survey of more than 7,000 passengers.
The annual report from consumer group Which? found that in most cases, less than half of all passengers were pleased with their journeys.
The most common complaint was ticket prices, with eight in 10 people saying fares were too high.
But train companies insisted that most passengers were satisfied overall.
Other frequent complaints included delays, having to stand, and poor toilet facilities.
The Which? survey found that 11 of the 19 train companies it investigated had customer satisfaction rates of less than 50%.
The poorest operators were Greater Anglia and Southeastern, both of which scored just 40%.
However, Merseyrail, which runs services in the Liverpool area, scored well, with 70% of its customers saying they were happy with the journey they had just undertaken.
Satisfaction levels steady
The industry body, the Rail Delivery Group, responded by saying that most passengers were happy with the standard of service.
Referring to January's survey by watchdog Passenger Focus, it said "four out of five passengers were satisfied with their overall journey".
"We are always keen to get feedback from customers, whether good or bad, which has helped the industry attract record numbers of passengers and cut complaints by three quarters in a decade," a spokesman said.
The twice-a-year National Rail Passenger Survey from Passenger Focus showed that overall satisfaction levels have remained steady since 2009.
Some 83% of passengers questioned in the autumn of 2013 said they were satisfied with their total journey.
Of these, 89% of leisure travellers were happy, but only 77% of commuters were satisfied, the survey indicated.