Candy Crush maker King to float stock in US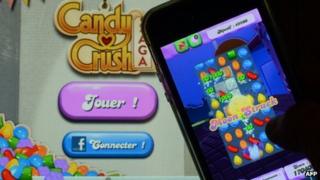 King, the computer games developer behind Candy Crush Saga, has filed to float on the New York Stock Exchange.
The British technology firm has not yet revealed the number of shares to be offered, or their price range.
However, its filing in the US reveals its "proposed maximum aggregate offering price" - the amount it is hoping to raise from the initial public offering (IPO) - is $500m (£300m).
Candy Crush was the top downloaded free mobile app of 2013.
It has been downloaded more than 500 million times since its launch in 2012.
The game's popularity helped King Digital Entertainment to reach revenues of more than $600m in the final quarter of 2013, and profits of about $160m in the same period.
King says that, as of December last year, its 150 games were played more than 1.2 billion times per day.
Analysts have valued the firm at more than $5bn.
The title's impact on the company has been clear.
Before Candy Crush, in 2011, King took $64m in revenue. In 2012, Candy Crush mania had well and truly taken hold, helping the company bring in $1.88bn.
"It's got some fundamental issues," said Nicholas Lovell, director at Gamesbrief.
"Seventy-eight percent of its revenue has come from Candy Crush Saga. The concentration in one title is very big."