Japan monthly trade gap more than doubles to new record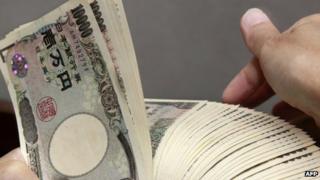 Japan's monthly trade deficit has more than doubled to a new record after a weakened currency drove up the cost of fuel imports while exports slowed.
Japan's trade gap rose by 71% to 2.79tn yen ($27.3bn; £16.4bn) in January from a deficit of 1.3tn yen in December.
This comes after imports rose by 25%, outweighing a 9.5% rise in exports.
Japan has posted large trade deficits for 19 straight months, raising concerns the government's stimulus policy may be having a counter effect.
Prime Minister Shinzo Abe has been looking to weaken the value of Japan's currency to stimulate economic growth and end nearly two decades of deflation.
His measures - which have come to be known as "Abenomics" - include increasing the money supply in the country to drive down the value of the currency.
Theoretically, a weak yen should boost exports by making them cheaper for foreign buyers, and increase the profits of exporters when they repatriate overseas earnings.
The Japanese yen has lost nearly 20% of its value against the US dollar over the past year, but the weak currency has also made imports more expensive and affected the country's trade balance.
The world's third-largest economy has had to import most of its energy needs after it shut all of its nuclear reactors in the aftermath of the tsunami and earthquake in 2011.
Japan posted a record annual trade deficit last year, and some economists say that this may widen further following a controversial sales tax increase in April.