Hewlett-Packard revenues beat forecasts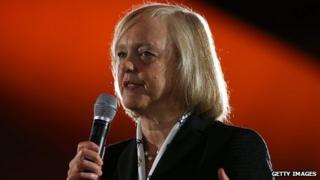 Computer giant Hewlett-Packard (HP) has reported a smaller-than-expected fall in net revenue and a rise in profits for the three months to 31 January.
After two years of restructuring and job cuts, the company's results suggest the technology giant is on a road to recovery.
Quarterly revenues of $28.2bn (£16.9bn) were down 1% from a year earlier, but ahead of analysts' forecasts.
Net income rose 16% to $1.43bn, up from $1.23bn a year earlier.
The firm also raised its profit forecast for the year ahead.
"HP is in a stronger position today than we've been in quite some time," said the company's president Meg Whitman.
"The progress we're making is reflected in growth across several parts of our portfolio, the growing strength of our balance sheet, and the strong support we're receiving from customers and channel partners," she added.
HP is the world's largest maker of personal computers, but demand for its core desktop computers has slumped in recent years.
It has been attempting to move away from its reliance on personal computers in preference for computing equipment and servers to help run data centres.
The US giant said that the past two years of job cuts and restructuring efforts were starting to pay off.
In 2012, the company said it would cut 27,000 jobs worldwide - about 8% of its workforce at the time - by the end of 2014.
In December last year, it said it was cutting 1,124 posts in the UK as part of its global downsizing plans.