Global dividends pass $1 trillion, says Henderson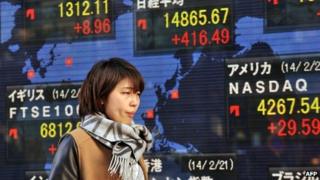 The dividends paid to shareholders around the world reached $1.03 trillion last year, according to research by Henderson Global Investors.
The City investment management firm said worldwide dividend payments grew very slowly in 2013, at just 2.8%.
But there has been a 43% rise in the value of global dividends since 2009.
Shareholder payouts have risen fastest in the past four years in the emerging markets, including China, though they have slowed down recently.
A third of all dividends were paid by firms listed on US stock markets, with European-listed companies in second place.
Andrew Formica, chief executive of Henderson, said the trillion-dollar dividend was a "huge milestone" for investors in shares, and highlighted just how important dividends were to investors' returns.
"The search for income is more than just a response to rock-bottom interest rates in recent years," he said.
"It marks a generational shift as ageing populations must increasingly rely less on state pensions and more on their own savings to provide for retirement.
"This demand for equity income is a trend we see continuing through 2014 and beyond," he added.
Pick-up ahead
The contribution of dividends to the total returns available to shareholders has always been very important.
But that elementary fact was often overlooked in the past, when the booming stock markets in the 1980s and 1990s gave the false impression that rising share prices were all that mattered to investors.
Henderson said it expected worldwide dividend payments to pick up again this year.
It pointed out that 9% of all dividends paid globally came from just 10 enormous companies in the oil, banking and telecoms industries, and that the world's top 20 dividend payers provided 16% of all shareholder payouts.