Can Mothercare be reborn?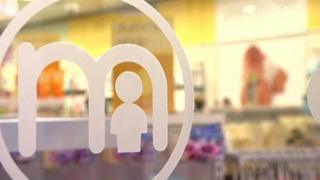 Parenting shop Mothercare has been a feature of the UK High Street for the living memory of many of its prospective customers, but in recent years the business has been struggling.
The resignation of chief executive Simon Calver this week was the latest in a series of challenges for the retailer.
In January, Mothercare issued a profit warning after a disappointing Christmas performance. The resulting drop in the share price knocked £112m off the company's market value.
Sales have been falling at Mothercare UK for a number of years, despite a restructuring of the business that has included job losses.
Yet the retailer still has a strong UK High Street presence, and a well-respected brand.
So, can Mothercare undergo a renaissance or will it flounder?
'Why go to Mothercare?'
Mothercare has seen increasing competition from retailers, both online and on the High Street.
"It has been a difficult time for the company," said Keith Bowman, an equities analyst at Hargreaves Lansdown. "The UK business in particular has been a difficult area."
Competitors such as Next have been successful in attracting customers online and on the High Street, drawing custom away from Mothercare, Mr Bowman said.
Discount retailers such as Poundland and supermarkets have moved into selling children's products, undercutting Mothercare's prices and poaching market share, said Ishaq Siddiqi, a market strategist at spreadbetting company ETX Capital.
"You can buy Mothercare-type products elsewhere, so why go to Mothercare?" he said. "They're a specialist retailer that's not specialist any more."
One of Mothercare's main problems is the pricing of its products, Mr Siddiqi said. The management must concentrate on how the company can put less pressure on its profit margins, he said.
The company has been redeveloping its store portfolio by concentrating on out-of-town developments, said Mr Bowman.
"The question is: have they done enough in a reasonable timeframe?" he said.
The company needs to reduce the number of its High Street stores and focus on beefing up its online business, Mr Siddiqi said.
International pressures
Mothercare's acquisition of the Early Learning Centre (ELC) toy retailer in 2007 has also turned into a drag on the business, the analysts said.
"With hindsight, taking on ELC may not have been such a good idea," said Mr Bowman. Both he and Mr Siddiqi think the firm may have to ditch ELC.
Meanwhile, the company's international business is growing in terms of sales, but its rate of growth has slowed year-on-year, with some of its larger markets in Europe having suffered from economic difficulties such as youth unemployment.
Exchange rate fluctuations also had a negative impact on the business, said Mr Bowman. Importing foreign-made goods for sale and bringing profits back to the UK can be affected by volatile exchange rates, and these chaotic fluctuations can add to the cost of business.
Mothercare's management may have focused on its international business to the detriment of its UK arm, he said. "The management may have taken its eye off the ball," he said.
Mr Siddiqi added that the company may have to scale back its international concerns.
'Must evolve'
Despite its ongoing difficulties, Mothercare has a lot going for it, the analysts said.
The company has a good reputation, and is a well-known and well-respected brand, said Mr Siddiqi, but the firm must make significant changes if it is to avoid dire consequences.
"We're completely unconvinced by the strategy of Mothercare," he said. "They have to evolve the company and change, or face disintegration of sales."
If Mothercare does not take immediate action it may be punished by the markets, Mr Siddiqi said, adding that too much of a fall in stock price may mean the company has to be sold.
The only likely sale would be to a private equity firm, in which case, the company's assets would probably be stripped, he said.
Mothercare may face a stark choice: it must be reborn, or it may sink.