Overseas trade drives German economic growth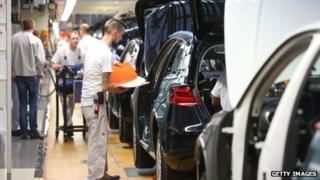 Germany's economic growth in the final three months of last year was largely driven by overseas trade, according to official statistics.
The German economy grew by 0.4% in the quarter compared with the third quarter, the German statistics agency said, confirming its earlier estimate.
Foreign trade drove the increase, accounting for 1.1 percentage points of the rise in gross domestic product.
However, weak domestic demand cut 0.7 percentage points from the figure.
The balance of exports and imports was the "key economic engine in the period", the statistics office said.
Despite the weak domestic demand at the end of last year, economists said they now expected it to pick up.
"High job security and rising incomes as well as very low inflation have been boosting consumer confidence to record highs lately and should translate into stronger household spending growth in 2014," said Christian Schulz at Berenberg Bank.
The performance of the German economy has weakened over the past two years, and for 2013 as a whole it grew by just 0.4% - marking its slowest expansion since the start of the global financial crisis in 2008.
The official figures also showed that Germany's GDP in the fourth quarter of 2013 was up 1.3% on the same period a year earlier.