Greggs shares fall 9% after profits drop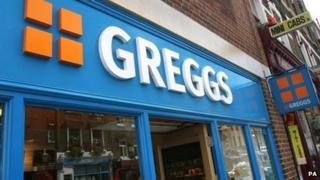 Greggs shares have fallen more than 9% after the bakery chain reported a sharp drop in annual profit for 2013.
In the year to 28 December, pre-tax profits fell to £33.2m, down from £52.4m the previous year.
The cost of changes to Greggs' strategy, pressures from competition, and bad weather all contributed to the slump.
In 2013, Greggs shifted its strategy back to selling takeaway food such as pies, pasties and sandwiches.
Last Updated at 19 Mar 2018, 16:30 GMT
*Chart shows local time
price
change
%
1196.00 p

+

+12.00

+

+1.01
Greggs said last year it would focus on improving existing shops rather than opening new stores, and scrapped its attempted move into the coffee market under the Greggs Moment name.
"2013 was a year of transition for Greggs as our new strategic focus centred on the growing food-on-the-go market," said chief executive Roger Whiteside.
"Whilst total sales for the year rose 3.8%, like-for-like sales were down 0.8%, reflecting the tough and competitive trading conditions."
Greggs' decline in underlying sales could be attributed to poor weather conditions, said retail research company Conlumino.
"The bakery chain's poor like-for-like performance over the past year is primarily due to its battle with the weather, with snow early in the year followed by the heat wave in July proving disastrous for sales of its hot pasties and other baked goods," said Greg Bromley, retail consultant at Conlumino.
Mr Bromley said the outlook for the Greggs was "fairly positive", but added it faced fierce competition.
"It must continue to improve its food-on-the-go offering, as this is an area that is becoming ever more competitive as grocers and others weigh into the market."