Citigroup profit hit by Mexican fraud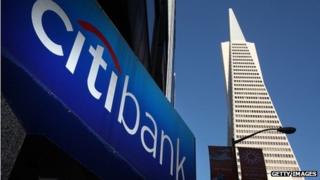 The US bank Citigroup has lowered its fourth-quarter and full-year earnings after discovering fraud in its Mexican subsidiary.
The bank said that 2013 net income would be reduced to $13.7bn (£8.2bn) from $13.9bn.
Citigroup said that it believed the fraud was an "isolated incident".
Chief executive Michael Corbat said the company had been "responding forcefully" and it was working with law enforcement agencies in Mexico.
The fraud centres on short-term loans made by Citigroup's subsidiary, Banco Nacional de Mexico (Banamex), to a Mexican oil services company called Oceanografia (OSA).
In February, Mexico's anti-corruption agency banned OSA from bidding on government contracts for 21 months because it had violated an agreement with the country's state-owned oil giant, Pemex.
As a result, Citigroup and Pemex then investigated their accounts relating to OSA, discovering some of them were fraudulent.
'Despicable crime'
"It appears that invoices from OSA were falsified to represent that Pemex had approved them. A Banamex employee processed them, and as much as $400m was misappropriated throughout the course of the fraud," said Mr Corbat in a memo to his staff.
"The financial impact will lower our 2013 net income by approximately $235m. The impact to our credibility is harder to calculate," he added.
Mr Corbat said he was working with Mexican authorities to "initiate criminal actions in connection with this matter that, in addition to imposing just penalties on the responsible parties, may allow us to recover damages".
He said: "There will be accountability for those who perpetrated this despicable crime and any employees who enable it."
Just two weeks ago, he wrote to his staff stressing the importance of ethics in the firm, saying that "five years after a crisis in which the financial services industry shouldered its fair share of blame - there are some people who still don't get it".
Citigroup is the US's third largest bank in terms of assets.
Since the Citigroup revelations, Mexico has seized the assets of OSA and is investigating it for possible crime. An administrator has been appointed to run the business in the meantime.