Mortgage approvals at their highest since late 2007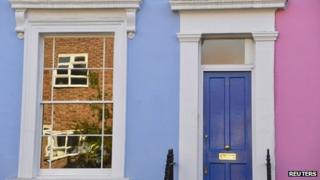 The number of new mortgage loans being approved for home buyers has reached its highest level for more than six years.
The Bank of England says the number of mortgages approved, but not yet lent, was 76,947 in January.
The figures suggest that sales will grow strongly in the coming months, which is likely to push prices higher.
It was the largest number of approvals since November 2007, when the banking crisis was getting underway.
Approvals are traditionally seen as a very good indicator of forthcoming trends and they clearly suggest that sales will rise further in the coming months.
In 2013 more than one million homes were sold in the UK, a 15% jump from 2012.
It was also the first time that that level of sales had been achieved since 2007.
Ray Boulger, of mortgage brokers John Charcol, said: "Approvals have been going up quite strongly for the past year.
"I think gross mortgage lending in the first quarter of the year will be up considerably on last year, by at least 35%, but for the rest of the year, the increase will be more modest."
Even so, Mr Boulger predicts that house prices nationally will rise by 8% during 2014.
Strong revival
The UK property market has picked up strongly since last spring, after suffering five years of stagnation brought on by the banking crisis and the subsequent severe mortgage rationing.
However in the past 18 months, lending, sales, house building and prices have all been stimulated by a big injection of cash and the easier availability of mortgages.
Back in 2012 the Bank of England launched the Funding for Lending Scheme (FLS) which offers cheap cash to banks if they then lend it to personal and business customers.
Then last year the government launched two schemes under the banner of "Help to Buy", to make it easier for people who could afford to put down only a small 5% deposit to arrange a home loan with a mortgage lender.
At the same time activity has also been prompted by the revival of the wider economy which has reduced unemployment and increased levels of employment.