UK service sector growth remains strong, PMI survey says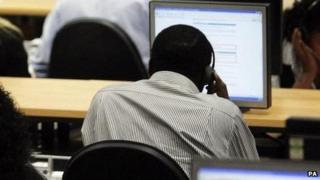 The UK service sector continued to "expand strongly" in February, a survey has said, with job creation at its fastest pace for four months.
The Markit/CIPS Purchasing Managers' Index (PMI) for the sector was 58.2 last month.
While this was below January's reading of 58.3, it was well above the 50 level that indicates expansion.
The Markit survey also found that confidence in the economic outlook rose to its highest since September 2009.
Similar surveys of the manufacturing and construction sectors have also shown growth during February, but the service sector dominates the UK economy and is the key driver of economic expansion.
"Alongside vibrant growth in manufacturing and construction, the upbeat picture of the services economy points to the country enjoying another quarter of robust economic growth of approximately 0.7%," said Chris Williamson, Markit's chief economist.
"There's no end in sight to the good news: with business confidence in the services economy rising further in February, growth should pick up again in March, adding conviction to the growing consensus that the economy is set for its best year of growth since 2007, with the rate easily surpassing the 1.8% expansion seen last year."
The strong expansion within the service sector led to staffing levels rising at their fastest pace since October last year.
Business confidence grew for the fourth month in a row, and reached its highest level of September 2009.
Markit said that companies expected the economic recovery to be maintained, with firms planning to raise investment in marketing and in growing their businesses.