Profile: Birmingham City owner Carson Yeung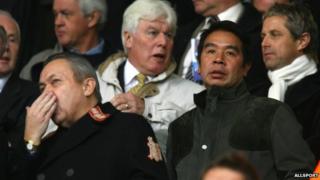 Carson Yeung, a former hair stylist who made a fortune on the stock market and bought Birmingham City football club, has been jailed for six years by a Hong Kong court for money laundering.
For Yeung, 54, it ends a journey from rags to riches and back to rags.
He has said he made his money with investments in stocks, gambling in Macau and property investments.
In common with many owners of football clubs, he splashed out on a luxury car, homes abroad and a yacht.
But his fall from grace was assured on Monday, when he was convicted of five charges relating to HK$720m (£55m) passing through his bank accounts between 2001 and 2007.
Relegation
Yeung was charged in 2011, two years after acquiring Birmingham City.
He bought the club in October 2009 for £81.5m from David Sullivan and David Gold, now the co-owners of West Ham.
Yeung's ownership of Birmingham City has not been without controversy, He arrived with big promises for the club's supporters, pledging as much as £40m for then-manager Alex McLeish to spend on players.
He also promised a cut in ticket prices, reversing former chairman Mr Gold's promise to be "realistic" when it came to spending.
And he unveiled an ambitious scheme to recruit a top Chinese player to Birmingham, telling the Independent newspaper in 2010 he wanted to crack the Chinese market and rival basketball as the top foreign sport in the country.
But things did not go according to plan. Since he took charge, Blues have won the League Cup, but have been relegated from the Barclays Premier League and are currently 17th in the Championship after losing 1-0 to Ipswich on Saturday.
For their part, fans reacted angrily to the club's relegation and the management of its finances.
The club's parent company, Birmingham International Holdings Ltd (BIHL), is based in the tax haven of the Cayman Islands.
It posted a pre-tax loss of HK$126m for the 2013 financial year, after a profit of HK$144m for the year earlier, as sales fell 40%. Yeung paid himself a salary of HK$2.5m for the year, about £192,000.
He remains the majority shareholder, but resigned in February as president of Birmingham City FC, director of Birmingham City plc and director and chairman of BIHL.
Hair salon
In his trial, Yeung claimed he had accumulated hundreds of millions of dollars through stock trading, business ventures in mainland China, a hair salon and a keen interest in gambling.
But the court was told he had lied about how he made his money and he was described by Judge Douglas Yau as "not a witness of truth".
The businessman was unable to show where almost HK$100m (£7.7m) in his bank accounts had come from.
Sentencing Yeung at Hong Kong District Court, Judge Yau said the law would come down on those who cheat the system "with full force".
Birmingham supporters are hoping that Yeung's conviction will lead to new owners.
Former Queens Park Rangers chairman Gianni Paladini told the BBC this week he is still a prospective buyer of Birmingham City, if the club are prepared to talk to him.
Mr Paladini first revealed his interest in the Blues in September 2012, before lodging an offer worth close to £30m two months later. However, Yeung declined that offer.
Since then, acting chairman Peter Pannu has poured more cold water on fans' hopes.
On 3 March, he said in a statement on the club's web site that BIHL "will work to raise further investment to support Birmingham City FC going forward".