Boohoo flotation to value fashion retailer at £560m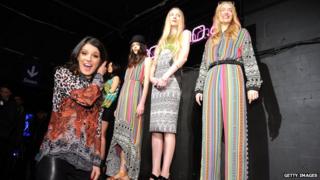 Online fashion retailer Boohoo.com has said it will have a market capitalisation of £560m when it floats its shares next week.
The company - which sells clothes aimed at the 16-to-24 age range - said it had raised £300m from investors ahead of the flotation.
Boohoo is one of a number of companies looking to float their shares on the London stock market.
Poundland and Pets at Home are also due to float their shares shortly.
Warehouse upgrade
Boohoo was founded in 2006 and says it now has more than 2.3 million active customers.
In the 10 months to December 2013, sales increased by 70% to £91.9m, with just over a third of sales being made outside the UK.
Boohoo has raised £300m by selling 600 million shares at 50p each. Of the money raised, £240m is going to existing shareholders, with some of the remaining cash being used to upgrade its warehouse in Burnley.
The company is floating its shares on the Alternative Investment Market (AIM), a sub-market of the London Stock Exchange, with trading due to begin on 14 March.
Following the flotation, the founding Kamani family and other board members will retain a 44% stake in the company.