Floods give jobs market 'unexpected boost', says Manpower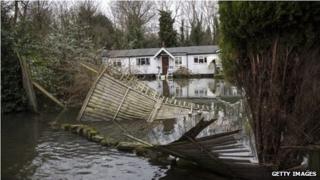 The UK's winter floods have given the jobs market an "unexpected boost" as new staff are hired to cope with the clean-up, Manpower has said.
The recruitment firm estimates the repair work could be worth about £250m to the construction industry alone.
Energy firms have also hired more staff to restore power to homes affected by the bad weather, Manpower said.
In its latest employment report, the recruitment company said all sectors of the economy intend to hire more staff.
It is the first time that has happened since 2008.
"The UK jobs market has reached a turning point," said ManpowerGroup's UK managing director, Mark Cahill.
"At last we can confidently say that the jobs market is starting to fire on all cylinders."
'Economic gain'
According to survey responses from employers in the construction industry, more are planning to hire extra staff than decrease numbers.
It is the first time Manpower's forecasts for that sector have been positive since before the recession.
The firm believes the government's Help to Buy scheme is partly to thank, but that the bad weather could also be responsible.
"With over 6,000 properties flooded, and an average repair bill of £30,000-£40,000, the beneficiaries of all this extra work will be builders who are already being called in to repair homes," Mr Cahill added.
"We could be talking about an economic gain of about £250m to this industry alone."
Larger firms are more optimistic about job prospects than at any time in the last decade, Manpower said.
Wales and north-east England were the most optimistic parts of the UK when it comes to hiring intentions, with Northern Ireland the only area to score negatively.