Japan Display shares fall sharply on Tokyo debut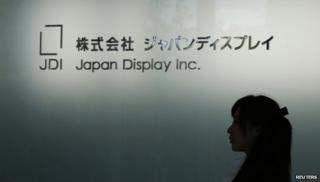 Shares in Japan Display - the world's largest manufacturer of smartphone screens - plunged 20% after making their debut on the Tokyo stock exchange.
The company was formed two years ago from the liquid crystal display units of Sony, Toshiba, and Hitachi.
Japan Display raised $3.2bn (£1.9bn) in its stock offering, which was Japan's largest of the year so far.
However, the firm struggled to raise interest among foreign investors.
It cut its planned share offering for overseas investors from 45% to 37.5%, and lowered its initial share price target, eventually pricing shares at 900 yen ($9; £5).
The firm competes with Japan's Sharp and South Korea's LG, and it manufactures the screens used in popular devices, like Apple's iPhones, as well as Samsung and Microsoft phones.
However, all three firms have struggled recently, as the market for smartphone screens has slowed and the price of screens has been falling.
A Japanese government-backed fund, the Innovation Network Corporation of Japan (INCJ), contributed $2bn to help the firm get started in 2012.
Launched in 2009, the fund aims to help Japan's firms become more globally competitive.
It is estimated to own around 70% of Japan Display.