A recovery yet to pay dividends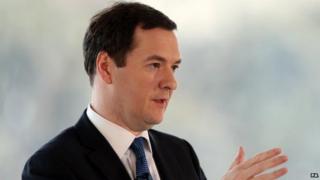 We know the framework for today's Budget.
The big thing (and the disappointing news) is that the recovery in the economy is not - in the government's view - leading to an unexpectedly fast rise in sustainable tax revenues or sustainably lower benefits for the unemployed.
So the Office for Budget Responsibility's estimate of the so-called structural deficit - the part of the government's deficit that is left when the economy is operating at full capacity again - is not expected to be reduced.
In fact it might even be increased a bit.
Which means there will be no let up in blinkin' austerity. Them tough times in the public sector are not going away any time soon.
Which doesn't mean that the chancellor has no money to play with in the Budget - only that for every giveaway, he'll find a way of taking money back.
We also know the big stuff he wants to achieve in the Budget, because he said what that was in Hong Kong (of all places) earlier this year.
In a speech, he conceded that the recovery is not balanced, that it is too dependent on household investment: he wants to see businesses investing more, and he wants to do what he can (which is probably not a great deal) to help narrow the gap between what we export as a nation and what we import.
So there will be measures to tackle both of these economic weaknesses.
What would they be?
Well I would expect more generous tax breaks for companies that invest in expanding productive capacity.
And I would imagine there will be an improvement in the government scheme for helping companies export, or UK Export Finance (I am not an expert on this, but as I understand it, German exporters receive more generous and flexible support - and that does not appear to have done the German economy any harm).
What else? Well there will be a reduction in the tax paid to the Treasury by electricity generators for emitting carbon dioxide (in the jargon, the Carbon Price Floor will be cut) - which should help a bit with energy bills, especially for manufacturers that consume vast amounts of electricity.
Of course we already know how the chancellor intends to at least maintain the current higher rate at which houses are being built, because he announced at the weekend that the mortgage guarantee scheme for purchases of new homes, Help to Buy One, will be extended to 2020.
Finally there will, I am told, be an eye-catching measure that is likely to dominate the headlines.
I expect it to be in the territory of personal taxation. I am told the Treasury thinks it is jolly clever.
But more than that I know nothing. Sorry.