Pension changes: Are they welcome?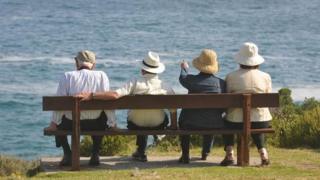 The Chancellor, George Osborne, wants to give people more control in how they manage their income after retirement.
He has announced plans to scrap the requirement for people who have savings in a defined contribution pension scheme to buy an annuity.
The reforms will come in from April 2015, but some of the current rules will be relaxed from 27 March 2014.
The chancellor has dismissed fears that pensioners will "blow" all the money in their pension pot.
Mr Osborne said pensioners were "responsible people who are capable of making decisions about their future".
The Insurance Industry
Nigel Wilson, Chief Executive of Legal & General, annuity providers
"We think it's a very positive step in the right direction. People's pension pots are too small in the UK. They have to save more for retirement and they need more choice and better advice when they retire, so it ticks the boxes in those respects.
We trust people to buy their own homes, to buy cars, to spend on expensive holidays, we should trust them to do the right thing around pensions, provided they get the best advice.
At the moment we have a very modest share in the annuity market. We expect our market share to go up under the new regime.
I think it was a shock to everyone, particularly a shock to investors, but I think as we move forward it will be good for Legal and General."
The Pension Funds
Joanne Segars, Chief Executive National Association of Pension Funds (NAPF)
"I think on the one hand it's good that people can get their hands on their lump sum, they can get their hands on all their money.
It might encourage people to save more for retirement, but on the other it puts huge burdens on individuals to be able to make the right decisions when they retire.
And people tell us that they don't feel confident to make those decisions, so it's really important people get the right kind of information, the right kind of guidance, so that they can manage their money over a twenty or thirty year retirement period.
People have said to us that they simply don't feel confident making decisions about retirement income and planning, and that's a real risk.
So whilst the government's saying there'll be some guidance, they're being very very vague about what that guidance will look like, how it will be offered and who will offer it."
The Pensions Expert
Tom McPhail, Head of Pensions' Research, Hargreaves Landsdown, wealth management
"I think in the main people are going to be pretty responsible with their money. They've saved it, it's what they've got to live on in retirement. I don't think they're going to blow it.
We've seen evidence from Australia that suggests, again, that people don't blow the money when given this kind of freedom. And at the end of the day the money is in a tax exempt pension fund so it's growing tax-free.
You can draw income out, often very tax efficiently, but you will potentially pay income tax on it, so if you draw it all out and go and spend it, you're going to lose quite a lot in tax right away. So I think people will in the main behave quite rationally.
It creates opportunities. Good financial advisors will thrive, but really the interesting challenge for the industry as a whole is to come up with ways of delivering good, low cost, pre-retirement guidance to large numbers of people. I suspect a key part of the solution will be in the workplace."
The Advice industry
David Piltz, Buck Consultants, a Xerox company, corporate advisers
"Undoubtedly the number of people using annuities will fall dramatically.
Modestly sized companies specialising in annuities have seen catastrophic falls in their market price.
Annuities will still be the right product for some people, but there'll be a sea change in how people take their defined contribution fund on retirement. Some will take their savings more quickly and rely on the state pension.
Let's hope there aren't unscrupulous people waiting to prey on them. We have to educate people. Financial education has to go hand in hand with this change. There'll be a lot more space for financial advisers to assist in education and planning."
The Over-50s
Paul Green, Director of Communications, Saga, over 50s specialists
"We have long campaigned for more flexible pension and other savings for later life. Trusting people with their own money must be the right approach.
However, with greater longevity the biggest challenge is to make people's savings last a lifetime.
Those saving for retirement and the financial services industry need to meet the challenge of enabling people to enjoy a better and more flexible retirement, along with financing future care needs."