Many 'still confused about Isas'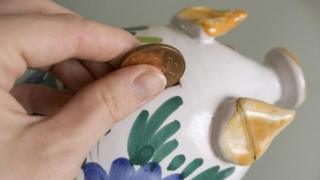 Millions of UK savers are missing out on the chance to put their money in a tax-free Individual Savings Account (Isa), financial advisers say.
Chancellor George Osborne announced plans in the Budget to increase the amount that can be saved.
Yet, more than half of the UK's 30 million taxpayers did not use the Isa option last year, with many confused about the deals.
Some may have been put off by low interest rates in recent years.
Isa rules
The Isa is just about to mark its 15th anniversary.
For every 15 years of the Isa's existence, anyone who had put the maximum allowance into a stocks and shares account - taking the average UK Equity and All Companies funds as examples - would currently have a pot of money worth more than £214,000 and £218,000 respectively. That is almost £100,000 of tax-free gains.
Using the annual maximum allowance in a cash Isa would have bought a total pot of more than £76,000 and earned more than £20,500 in tax-free interest.
Some 14.6 million adult Isa accounts were opened in the last tax year. That was up slightly on the previous year, but meant 15.4 million eligible tax-paying UK residents did not take advantage of their ISA allowance.
David Braithwaite, of Citrus Financial Management, said a lot of people still did not understand the concept of Isas or how to use them to their best advantage.
"Most people still don't get it, I met a lady the other week who did not realise that you are entitled to have one Isa per tax year.
"A lot of people don't know what a tax year is. I think they should find out, because the rules and the changes that have happened in this Budget are good news for savers, and savers have been looking for this sort of good news for quite some time."
'Flexibility'
Two big changes to the Isa were announced by the Chancellor George Osborne in his Budget.
Firstly, he raised the limit on the amount that can be saved tax-free each year. From 1 July, the total sum increases to £15,000.
Secondly, savers can now chose to save the whole amount in cash, instead of having to split it between cash and shares.
Darius McDermott, of Chelsea Financial Services, said the change offered a "win-win" for savers.
"It just gives a much greater level of flexibility for savers and offers a simplification of the rules, and a raising of the Isa limit to a sensible level of £15,000," he said.
"It is really a win-win for savers and their ability to make asset allocation decisions between cash and equities. It's just nice and simple and very flexible."
'Timing'
When it comes to deciding where to invest your money, into a cash Isa or a stocks and shares Isa, he said there was no clear winner.
"Throughout the early part of the life of the Isa, investing in cash was better because cash rates were good at 5% or 6% and stock markets went down.
"But more recently, in the past three or four years, cash rates have been appallingly low, and investment Isas have probably tripled in the four-year period from the stock market low to after the financial crisis.
"So there is no right or wrong answer, it is very much dependent on the timing of the investment."
Equities are widely regarded as a longer term investment, for those able to leave the money tucked away for a minimum of five years as the money saved can go up and down with the market.
With cash, the capital is safe. However, with interest rates currently so low, the prospective returns are smaller.