'Worry' over pension reform effect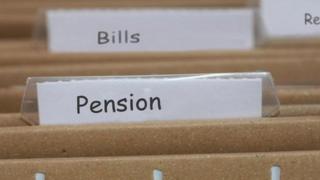 Pension savings could increasingly be used as collateral for borrowing earlier in life owing to Budget changes, MPs have heard.
The Commons Treasury Select Committee has been listening to evidence about the chancellor's plan to unlock pension savings.
The new system will abolish the requirement for some people to buy an annuity - a retirement income for life.
The move could result in new financial products being created, MPs heard.
Cashing in
Under the Budget proposals, from next year millions of people reaching retirement age will be able to spend their pension pot in any way they want.
This could include cashing in their pension savings in one taxed lump sum, but this could have a number of hidden consequences. It could also lead to financial firms seizing new opportunities to create new financial products which would be paid for by people taking the lump sum when they retired.
Paul Mortimer-Lee, global head of market economics at BNP Paribas, told the committee that he was "worried" that people could be encouraged to borrow money when they were of working age, using the money they would receive on retirement to pay back these loans.
This was already happening to a degree, Paul Johnson, of the Institute for Fiscal Studies, told the committee, with pension savings used as collateral for borrowing.