The energy company blancmange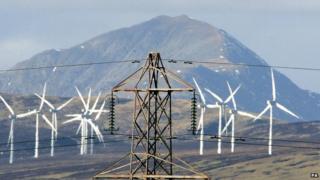 Normally, when a company announces a price freeze and a cut in the profit margin it earns - which sounds like the declaration of a price war - the share price of that company falls.
That is what happened, for example, to the share price of Morrisons, the supermarket group, when it made just such a declaration.
And not only did Morrisons' share price drop sharply, but those of its main rivals, Sainsbury's and Tesco, did too - because they were faced with the uncomfortable choice of responding by offering their own discounts or risk losing custom.
So it is striking (ahem) that SSE's share price has risen by around 3% today, after making what it calls the energy sector's "longest-ever unconditional price promise" - to freeze what it charges customers until at least 2016.
Last Updated at 08 Dec 2017, 16:20 GMT
*Chart shows local time
price
change
%
1324.00 p

-

-3.00

-

-0.23
It is true that the share price of Centrica - the UK's biggest energy supplier - has been hit a bit, by just under 3%, but that is hardly Armageddon, and is a much smaller drop than the supermarkets suffered.
Benefits of conglomerates
As for the other quartet among the "big six" power companies, they are all controlled by big overseas companies, so it is difficult to see what investors believe the impact will be on them.
But none have put out statements manifesting acute agony, or rushed to imitate SSE.
So why is SSE's eye-catching, populist initiative such a non-event in financial terms?
Well it is because they are the corporate equivalent of blancmanges in the way that supermarkets are not.
Or to put it another way, if pressure is applied to price or profits in one part of what are in effect conglomerates - with interests in energy generation and distribution, as well as energy supply or retail - there are ways of making up the difference elsewhere.
Last Updated at 08 Dec 2017, 16:20 GMT
*Chart shows local time
price
change
%
144.10 p

-

-0.70

-

-0.48
In the case of SSE, it is cutting costs by £100m - and shedding 500 jobs.
SSE is massively scaling back its investment in offshore wind farms, for those it no longer deems viable.
'Zilch' sacrifice
And it plans to cut debts by around £1bn through asset disposals.
The net result of these changes is that the profit after tax it expects to earn per share in 2014 to 2015 will be the same, or greater than, in the current year - and SSE intends that dividends should rise by at least Retail Price Index inflation in the years ahead.
The sacrifice for owners in this apparent price war seems to be zilch: an initiative billed as being great for consumers turns out - in the round - to be benign (or better) for shareholders.
This is not, unlike what Morrisons announced, a massive change in the economics of what SSE does, in which returns are decisively shifted from investors to customers.
Which is why SSE and the other energy giants still have a great deal to fear from the looming investigation of their activities (announced Thursday).