Households saving less for a rainy day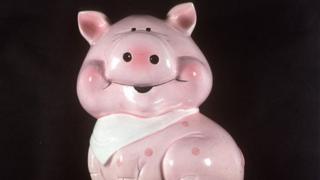 Households saved a smaller share of their income last year than in 2012, according to the latest figures from the Office for National Statistics (ONS).
In 2013 people saved 5.1% of their disposable income.
This compares with a figure of 7.3% in the previous year.
The fall in the country's savings ratio could suggest a return of confidence, as traditionally people save more when they're worried about their jobs.
In 2007, before the financial crisis struck, savings were at little more than zero, but they rose to 9% during the recession.
As the economy recovers, wage rises in key sectors such as retail and manufacturing are starting to outpace the rate of inflation.
However, the fall in the amount of their income households are salting away, could show people are spending more just to maintain their standard of living.