Babcock and Fluor venture preferred bidder for nuclear deal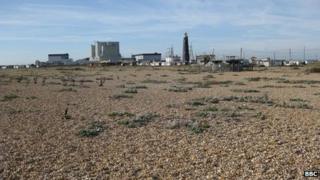 A joint venture between engineering contractors Babcock and US firm Fluor has been named as the preferred bidder for a contract to manage the decommissioning of UK nuclear sites.
The 14-year contract, worth £7bn, covers 12 nuclear power sites.
Cavendish Fluor Partnership was chosen by the Nuclear Decommissioning Authority (NDA), which said the project should save the UK at least £1bn.
Hinkley, Sizewell and Dungeness will be decommissioned under the contract.
NDA chief executive John Clarke said the joint venture was chosen for its "successful track record and extensive nuclear experience".
The contract is one of the most valuable in the UK, and the bidding process took two years.
Cavendish Fluor Partnership beat competition from three other groups.
Babcock chief executive Peter Rogers said the decision reflected its "ability to successfully deliver complex projects of national significance in very demanding environments".
Babcock's shares surged sharply after the announcement, rising over 5%.