Paul Simon home furnishings chain in administration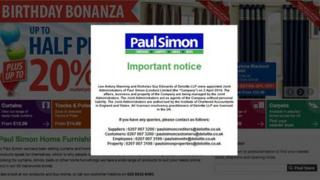 Home furnishings retailer Paul Simon has gone into administration after the recent floods hit sales at its stores.
Paul Simon operates 51 stores, mainly in the south and south-east of England, employing 550 staff.
The retailer specialises in the sale of furniture, curtains and carpets.
Deloitte has been appointed as administrator, and said the company would continue to trade while a buyer was sought for all or parts of the business.
Lee Manning, partner at Deloitte, said: "Like many other retailers, Paul Simon has been hit hard by the uncertain economic environment.
"In addition, its core business has been undermined by the increasing importance of online sales, causing an erosion of margins. This was compounded by the impact of the recent widespread flooding, which restricted many customers' access to several stores.
"These issues made an element of the store portfolio unprofitable and led to a projected imminent cashflow deficiency, resulting in the administration appointment."