Sports Direct shareholders reject Mike Ashley bonus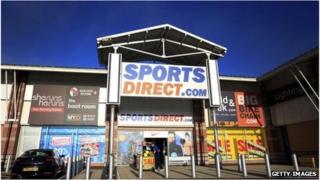 Sports Direct shareholders have rejected a £73m bonus package for the firm's founder, Mike Ashley.
The UK's biggest sports retailer cancelled plans for a vote on the deal, after it became clear the proposal did not have enough shareholder support.
The deal would have given Mr Ashley, who has a 62% stake in the company and also owns Newcastle United FC, eight million ordinary shares.
It was the Sports Direct board's third attempt to reward the firm's founder.
Shareholders had rejected one previous proposal because of concerns over related performance targets, while another failed to make it to a vote.
'Disappointed'
Reacting to the latest rejection, the chairman of the company's remuneration committee, Dave Singleton, said: "During our ongoing discussions with institutional shareholders, it became apparent that, while we had the support of some of our largest shareholders, we had not been able to secure the requisite level of shareholder approval.
"While the board is disappointed that this resolution will not now be passed, we respect shareholders' views.
"We remain convinced of the benefit of aligning Mike Ashley's interests with those of all other shareholders."
The bonus package, which would have been worth £73m at Sports Direct's current share price of 907p, was due to be put to a vote on Friday.
It would have paid out in July 2018 for Mr Ashley, who currently receives no salary or bonus from Sports Direct, which he founded in 1982.
The company now plans to seek approval for a new share bonus scheme to be voted on at Sports Direct's annual general meeting in September.
If approved, the scheme would grant 25 million ordinary shares to participants, including Mr Ashley, if earnings targets for 2016-19 were met.