Citigroup agrees $1.13bn settlement with investors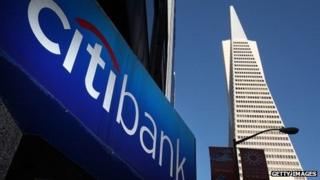 Citigroup is to pay $1.13bn (£676m) to settle claims by investors who had demanded it buy back billions in residential mortgage-backed securities.
A group of 18 institutional investors asked the bank to make the offer to the trustees of 68 Citi-sponsored trusts.
The offer will release Citigroup from having to buy back mortgages sold to the 68 trusts.
The trusts had issued $59.4bn in residential mortgage securities from 2005 to 2008.
Citigroup said the move resolved a "legacy issue from the financial crisis and we are pleased to put it behind us."
The group of institutional investors includes affiliates of Blackrock and Goldman Sachs.
Results charge
The settlement now has to be approved by the Federal Housing Finance Agency and trustees of the 68 trusts.
The bank said the agreement would result in a $100m charge in its first quarter results.
Last year, in a separate development, a federal judge approved a settlement whereby Citigroup would pay bondholders $730m.
It was to resolve claims Citigroup concealed its exposure to billions of dollars of toxic mortgage assets prior to the financial crisis.