Debenhams profits fall 25% after 'challenging' trading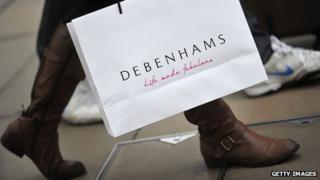 Department store chain Debenhams has reported a 25% fall in profits after what it called a "challenging" first half of the year.
Pre-tax profit was £85.2m for the 26 weeks to 1 March, in line with the scaled down profit forecast it made in December after weak Christmas sales.
It blamed lower-than-expected clothing sales, promotions from rivals and online competition for the drop.
Debenhams said it was taking "decisive action" to address the issues.
"I am confident that the changes we are putting in place will provide a better customer experience and, over time, stronger results for our shareholders," said chief executive Michael Sharp.
Debenhams plans to increase its online delivery options over the next six months, noting that rivals' "better developed multi-channel models" were one of the reasons for its poor Christmas performance.
It will offer a next-day "Click & Collect" service for orders, and extend its cut off point for next-day online deliveries from 2pm to 10pm.
It also said it would increase the range of brands on offer in its stores, and ensure each store had at least one restaurant or cafe by next April.
Big price cuts
In the first half of the retailer's financial year, group like-for-like sales, which exclude new store space, rose 1.5%, with revenues also up by 1.7%.
However, Debenhams said it had been forced to make bigger price cuts to clear stock in the post-Christmas sales, leading to the fall in profit.
Internationally, Debenhams said the total value of transactions had risen, but that it had seen a drop in profits in Ireland.
Debenhams has 158 stores in the UK and a further 82 overseas.