Pawnbroker Albemarle & Bond bought by investment group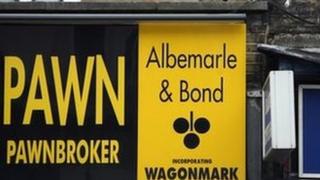 UK pawnbroker Albemarle & Bond has been bought out of administration by an investment group led by Promethean Investments.
The deal includes 128 Albemarle & Bond branches and 628 jobs. The 59 branches employing 181 jobs not included will be retained by administrators PwC.
A new chief executive, Stephen Plowman, will be appointed.
Promethean is leading the investment on behalf of an international investor group.
"The deal announced today was the best offer received, preserving the most jobs and keeping the most stores open," said PwC lead administrator Mike Jervis.
"All 120,000 pledged items remain safe and available for the customers to redeem."
Former HSBC chief executive Sandy Flockhart, now one of the directors of Promethean Investments, told the BBC that a "small number of selected investors" were involved in the deal.
"Albemarle & Bond will remain a feature of the High Street," he said.
Promethean will retain some of the pawnbroker's management team, Mr Flockhart added.
The deal was announced a day after rival UK pawnbroker H&T said that its discussions to buy Albemarle & Bond assets had ended.
Albemarle & Bond appointed PwC as its administrators in March. Before going into administration the company made a number of attempts to resuscitate its business, resorting to melting down gold stocks in November last year.