Jockey Club sees profit jump 11% to record level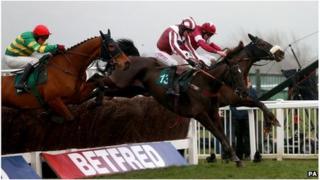 The Jockey Club, which runs 15 UK racecourses, reported record profits for last year of £22m.
The body, which stages both the Grand National and the Cheltenham Festival, saw profits rise by 11%.
Turnover also rose by 11% to a record of £166.9m.
It said the results were helped by "strong cost control performance across all areas of the business" and greater revenues from admissions and hospitality income.
It also reported it contributed £18.4m to prize money for races, which it said was 47% higher than five years ago.
More than 1.74 million people attended race meetings last year, including more than 235,000 at the Festival at Cheltenham, more than 150,000 for the Grand National Festival and more than 150,000 for the Derby.
Meat Loaf
The Jockey Club has also been adding other attractions to bring in new crowds, such as its "racing plus music" events, which saw six races followed by performances by acts including the Kaiser Chiefs and Meat Loaf.
In 2014, Jockey Club Racecourses has entered into a joint venture partnership - Jockey Club Live - to stage future live music and entertainment events. Acts lined up to play at the Group's venues nationwide include Sir Tom Jones, Jessie J, Kaiser Chiefs, James Blunt, The Beach Boys and Dizzee Rascal.
Nicholas Wrigley, the Jockey Club's senior steward, said: "I am pleased we report another excellent year for the Jockey Club, enabling us to deliver on our promise to act for the good of British racing."
Last year the organisation raised £24.7m in its first-ever bond launch to the general public, with the money being raised to redevelop its flagship Cheltenham Racecourse.