Former BP employee pays $224,000 over insider trading charges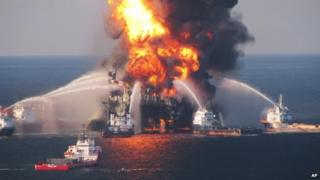 A former BP employee, who oversaw the cleanup of the oil spill in the Gulf of Mexico in 2010, will pay $224,118 to settle an insider trading charge.
Keith Seilhan was accused of selling $1m of shares in BP after receiving information about the severity of the spill which was not publicly available at the time.
BP shares fell almost 50% once the magnitude of the disaster became known.
The 47-year-old has neither admitted nor denied the allegations.
In April 2010, the Deepwater Horizon explosion in the Gulf of Mexico killed 11 people and resulted in 4.9 million barrels of oil being discharged, threatening marine life and hundreds of miles of coastline.
The US Securities and Exchange Commission (SEC), which investigated Mr Seilhan, says the Texan was then a crisis manager in BP's incident command centre in Houma, Louisiana, and coordinated the initial cleanup operations.
The SEC alleges he "received non-public information on the extent of the evolving disaster, including oil flow estimates and data on the volume of oil floating on the surface of the Gulf".
Mr Seilhan then sold his family's entire portfolio of BP shares - totalling $1m - in just two days, before the information hit the public domain.
The trades allowed Mr Seilhan to "avoid losses and reap unjust profits", according to the US regulatory authority.
BP shares, which closed at $60.48 on the day of the explosion, plummeted as low as $27.02 over the following weeks.
Avoiding litigation
Mr Seilhan left BP in January 2011, after spending 20 years at the oil company.
In a statement, Mary McNamara, Mr Seilhan's lawyer, said he agreed to settle because he "wants to avoid further distraction and protracted litigation".
Ms McNamara added that Mr Seilhan is "widely respected for his work" on the cleanup in the Gulf of Mexico.
"Seilhan sold his family's BP securities after he received confidential information about the severity of the spill that the public didn't know," said the SEC's Daniel Hawke.
He added: "Corporate insiders must not misuse the material non-public information they receive while responding to unique or disastrous corporate events, even where they stand to suffer losses as a consequence of those events."
The settlement is subject to approval by a federal judge in the US state of Louisiana.