GM profits hit by cost of recalls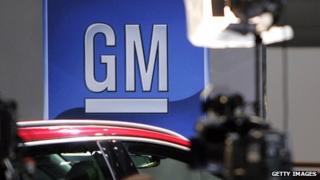 General Motors has seen first quarter profits hit by a $1.3bn (£774m) charge to cover the cost of a huge recall of cars over defective ignition switches.
The faulty switches could turn off the engine, disabling the airbags and have been linked to at least a dozen deaths.
The firm says it also incurred $300m in restructuring costs, mostly in Europe.
As a result net income was $125m, compared with $865m in the same period last year. Sales came in at $37.4bn, up from $36.9bn in 2013.
The firm said that of the $1.3bn recall charges, some $300m was to cover the cost of courtesy cars.
"Obviously, the recall campaign charges in the first quarter overshadows the headline results, but if you look underneath that, we had strong performance across the board," chief financial officer Chuck Stevens said.
It was GM's worst quarterly performance since it posted a net loss after leaving bankruptcy protection in 2009.
'Positive response'
The company had raised vehicle costs during the quarter, which helped boost operating profits by $1.8bn.
In North America the firm experienced higher sales of its more lucrative versions of its redesigned Chevrolet Silverado and GMC Sierra full-size pickup trucks.
"The performance of our core operations was very strong this quarter, reflecting the positive response of customers to the new vehicles we are bringing to market," said GM chief executive Mary Barra.
"Our focus remains on creating the world's best vehicles with the highest levels of safety, quality and customer service, while aggressively addressing our business opportunities and challenges globally."
During the quarter the company was also hit by another charge of $419m, "related to changing the exchange rate GM uses for re-measuring the net assets of its Venezuelan subsidiaries.".