UK retail sales edged up in March, says ONS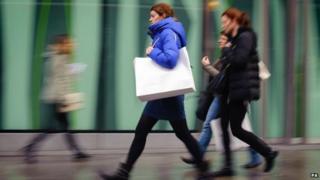 Retail sales edged up in March compared with the previous month, official figures have shown, beating forecasts.
Sales volumes were 0.1% higher in March than in February. Analysts had expected sales to drop because of the Easter holidays falling in April this year.
Volumes in March were up 4.2% compared with a year earlier, the Office for National Statistics (ONS) said.
The cold weather a year ago was a key factor in the year-on-year rise, the ONS said.
Non-food stores showed the biggest year-on-year rise in sales since April 2002, up 9.6%.
The ONS said this was helped considerably by the comparison with March 2013 which was the second coldest March on record. This year the weather was much warmer, leading to more people heading out to the shops.
'Fundamental improvement'
Retail sales figures for the first quarter of the year were also produced by the ONS. Sales volumes were up 3.8% in the first three months of the year compared with the first quarter of 2013.
The figures add to evidence that the UK economy grew strongly in the first three months of the year.
Earlier this week it emerged that the Bank of England had raised its growth forecast for the quarter to 1% from 0.9%.
The ONS figures showed that sales of clothing and footwear were particularly strong last month.
"Thoughts had been that consumers would take a slight pause in March from retail - a breather before the late Easter spending spree, but sales of clothing increased by 3.1% on the month and took the overall average into positive territory," said Jeremy Cook, chief economist at currency brokers World First.
Chris Williamson, chief economist at research firm Markit, said March's better-than-expected sales were "not just a temporary growth spurt".
"There is a fundamental improvement in household finances underway which should help drive further ongoing growth of consumer spending as we move through the year," he said.
"The improving job market, and especially rising wages, combined with lower inflation are helping boost consumer spirits and starting to reverse the squeeze on real incomes that has been so damaging to the economy since the financial crisis."