Ukraine threatens Gazprom with court over gas deal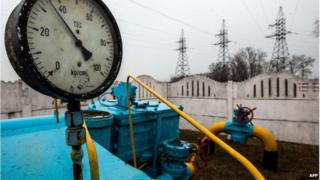 Ukraine has threatened to take Gazprom to court over what it says are inflated gas prices if the Russian energy firm refuses a new payment deal.
The country's prime minister, Arseny Yatseniuk, said Kiev was ready to pay $268 (£159) per 1,000 cubic metres of gas and settle its $2.2bn debt with Gazprom if it agreed to the price.
Gazprom has so far declined to comment.
Russia almost doubled Ukraine's gas price after the toppling of President Viktor Yanukovich in February.
Prime Minister Yatseniuk has said his country is not willing to pay at those levels.
"We insist that the price set for Ukraine at the beginning of 2014 [$268 dollars per 1,000 cubic metres] is a market one," he added.
"We insist on the continuation of this price."
Ukraine's state gas company, Naftogaz, has started the process of taking Gazprom to an arbitration tribunal in Stockholm if the Russian state-controlled firm does not agree to the offer within 30 days, Mr Yatseniuk said.
Slovakia deal
Meanwhile, Ukraine's interim prime minister announced another gas deal that allows supplies from Central Europe to reach the country via Slovakia.
Under the agreement, signed on Monday, Slovakia will reinstate a disused pipeline capable of supplying three billion cubic metres of gas a year to Ukraine.
"This... is a huge achievement in diversifying gas supplies to Ukraine," Mr Yatseniuk said.
Ukraine's energy minister, Yuri Prodan, said the country would soon start gas import talks with Hungary, as it tries to reduce its reliance on Russia, which accounts for about half of its total supply.