Serco shares plunge after it warns on profit forecasts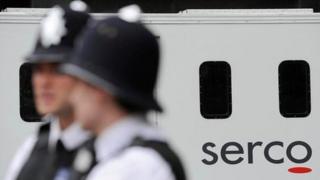 Shares in outsourcing firm Serco have plunged after it warned it may downgrade its profits forecast and issue new shares to shore up its finances.
It said its performance for the year had been "more challenging than expected".
It warned this could mean a "material downward revision" to its profits forecasts.
Shares fell 19% in early trading.
It said it would consult with shareholders regarding the possibility of strengthening its balance sheet by issuing fresh shares.
It said it would make a further announcement "as soon as possible" this week.
Serco has been hit by costs relating to its overcharging the UK government on a criminal tagging contract.
The firm was accused of charging for tagging people who were either dead or in jail.
In March, it said profit plunged 62% last year after it was hit by costs relating to the scandal.
Rupert Soames, the current boss of engineering firm Aggreko, is to take over as Serco chief executive in May.