Stocks and shares ISA investors rewarded last year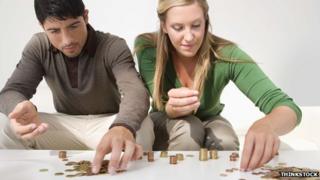 Investors who put their savings into stocks and shares ISAs were well rewarded over the last year, according to new research.
The average rate of return during the 2013/14 tax year was 9.42%, said the financial website Moneyfacts.
That compares with a return of just 1.69% on cash ISAs, which was only fractionally better than annual CPI inflation, at 1.6%.
In other words, those who bought cash ISAs made a tiny return in real terms.
It is the second year running that stocks and shares ISAs - otherwise known as Individual Savings Accounts-have proved to be a good investment.
In 2012/13 they showed average growth of 13.7%.
'50% return'
As a result of such performance, Moneyfacts believes more people will be persuaded to take out stocks and shares ISAs this year.
"With signs of economic recovery and no significant improvement in cash ISA rates, we would expect to see the popularity of stocks and shares ISAs increase further this tax year," said Richard Eagling, the Head of Pensions and Investments at Moneyfacts.
However, with many City economists expecting a rise in interest rates next year, cash ISAs are eventually likely to provide improved returns.
The best performing stocks and shares ISA fund last year was the Investec Smaller Companies fund, which rose more than 50% over 12 months.
Those investing in stocks and shares ISAs can currently shelter up to £11,880 from the taxman, while those buying a cash ISA can only save £5,940.
However from July, investors will be able to put up to £15,000 into either form of ISA.