Balfour Beatty boss quits after profit warning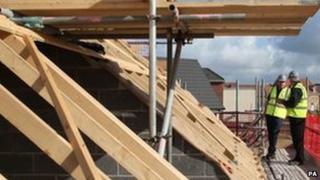 Balfour Beatty chief executive Andrew McNaughton has quit "with immediate effect" at the same time as the firm issued a profit warning for 2014.
The UK's largest building firm said it expected a shortfall in its UK construction unit, meaning 2014 group pre-tax profits would be "significantly lower" than expected.
Balfour said group profits would now be between £145-£160m.
It said most other parts of the firm were trading in line with expectations.
Balfour said it had appointed current chairman Steve Marshall as executive chairman until it had found a successor for Mr McNaughton.
Last Updated at 16 Feb 2018, 16:30 GMT
*Chart shows local time
price
change
%
280.50 p

+

+7.10

+

+2.60
The group said profits in its UK construction business would be £30m lower than it had expected in March.
The firm said it had taken longer than expected to improve operational issues.
It also blamed continuing "adverse market conditions" in its mechanical and electrical engineering division as well as "further costs increases and delays" in its major building projects division.
'Strategic review'
Balfour Beatty said it now planned to carry out a strategic review in a bid to simplify its structure and "create a more focused group".
As part of the review, it plans a possible sale of its consulting business Parsons Brinckerhoff, but said it would only sell it if it provided "attractive shareholder value".
"Having professional services and construction capabilities combined within one organisation has not delivered material competitive advantage for the group," Balfour Beatty said in a statement.
"Therefore, we are examining how best to realise the substantial value of the Parsons Brinckerhoff business."
Mr Marshall said: "Today's trading update is once again disappointing. The board is committed to rapidly addressing the root causes."
Kevin Cammack, an analyst at Cenkos Securities, told the BBC that he felt "a degree of sympathy" for Mr McNaughton, who had been in post for just over a year.
"He's obviously taking the fall for the succession of downgrades there have been under his tenure," Mr Cammack said. "The board has obviously had enough of a disappointing market, someone's got to go, and it's the chief executive."
Some of the operational problems with the business predate Mr McNaughton's appointment, he said.
In addition, Mr McNaughton may have objected to the possible sale of Parsons Brinckerhoff, Mr Cammack said.
Balfour Beatty shares dropped almost 20% during early trading on Tuesday.
The drop reflects an effective 20% cut in earnings, and market fears over the effect on dividends, Mr Cammack added.