Npower customers face 'chaos' on bills, says watchdog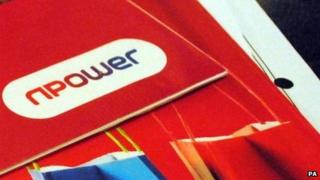 Customers of the energy supplier Npower have seen their finances "thrown into chaos", according to a consumer watchdog.
Citizens Advice said serious failures in the company's billing system and customer service operations were "unacceptable".
As a result, it said, Npower had topped the "big six" complaints table every quarter since the end of 2012.
The company said it was making good progress in solving the problems.
Nevertheless, Npower received over 300 complaints per 100,000 customers in the final quarter of 2013, three times the number of its nearest rival.
Failures
Some of those customers found that their direct debits were cancelled, resulting in their accounts becoming overdrawn.
Others received no bill at all.
Switching customers off: Complaints against the big six energy suppliers. October - December 2013
Rank
Supplier
Complaints per 100,000 customers
1.
Npower
306.8
2.
Scottish Power
100.5
3.
EDF
62
4.
E.ON
55.8
5.
British Gas
53.7
6.
SSE
31.5
"For well over a year now, some Npower customers have been finding their finances thrown into chaos," said Gillian Guy, the chief executive of Citizens Advice.
Together with Citizens Advice Scotland, she called on Npower to offer compensation to those affected.
Last year, Npower moved on to a new billing system, which still appears to be causing difficulties.
Even though the company wrote to all its 3.4 million customers to apologise in December, five months later it is making it clear that some of the bill issues have still not been rectified.
"We are making good progress in dealing with the root causes of this, but remain totally committed to resolving any problems this has created for our customers," said Roger Hattam, Npower's director of domestic retail.
It said last year that no customers would lose out financially.
The criticism from Citizens Advice is only the latest blow to Npower's reputation.
In January this year the company was criticised by the regulator, Ofgem, for using misleading figures in an industry report.
It was also fined £2m by Ofgem in 2011, for a failure to handle customer complaints properly.
The company that performed best, according to Citizens Advice, was SSE.
It had 31.5 complaints per 100,000 customers, barely a 10th of Npower's.
The report on energy complaint levels is the first to be produced by Citizens Advice since it took over from the previous watchdog, Consumer Futures, a year ago.
It advises consumers to complain to their energy supplier as soon as they experience a problem, and to ask for compensation where necessary.