Former Bush aide joins Bank of England rate-setting body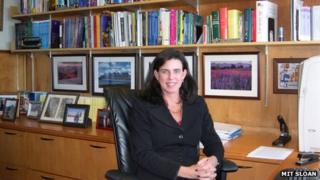 A former White House economic policy advisor has been appointed to the Bank of England committee responsible for setting interest rates.
Kristin Forbes, an economics professor at the Massachusetts Institute of Technology (MIT), joins the Monetary Policy Committee on a three-year term.
Chancellor George Osborne said she "is an economist of outstanding ability with real practical experience".
She will be the second woman on the MPC, with Egyptian-born Nemat Shafik.
Now professor of management and global economics at MIT Sloan, Ms Forbes was the youngest-ever person appointed to the White House's Council of Economic Advisors, where she served President George W Bush from 2003 to 2005.
She joins the nine-member MPC at a time of much debate about when UK interest rates might rise.
Her specialist areas include how financial risks in one country spill over into others, regulation, and capital flows.
Jeffrey Frankel, a professor at Harvard who has worked with Ms Forbes on several projects, praised her as a good macro-economist who will approach the BoE job with an open mind.
He told the Reuters news agency: "She is a very sensible, pragmatic macro-economist and if the question is would she be more hawkish or dovish, I just don't know. It depends on what the circumstances are."
Ms Forbes has also worked at the World Bank, Morgan Stanley and the US Treasury.
She replaces Ben Broadbent, who was appointed as deputy governor for monetary policy in March, and will take up the post in July.
The job was advertised in the media in April, and the Treasury said that 34 people applied.