Vodafone warns earnings will fall as it upgrades networks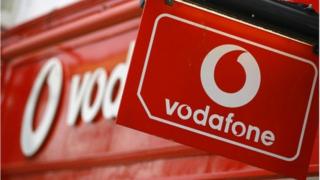 Mobile operator Vodafone has said its core earnings will fall in 2015 because it will invest in its network to boost speed and coverage.
The warning came as it announced profits for 2014 of £59.4bn, a figure swelled by a one-off gain of £45bn from the sale of its US business Verizon.
Core earnings were £12.8bn, and Vodafone estimates these will be between £11.4bn and £11.9bn next year.
Vodafone plans to invest around £19bn in its network over the next two years.
It wants to extend 4G coverage to 91% of the European population by 2016.
In India, Vodafone wants 95% of the population to have access to 3G in the same time scale.
Chief executive Vittorio Colao said: "The sale of our Verizon Wireless stake has rewarded shareholders for their support, and enabled the acceleration of our strategy through the acquisition of KDG, the pending acquisition of Ono and our Project Spring investment programme".
Vodafone plans to put around £19bn into its network over the next two years as part of the investment programme.
Shares fall
Mr Colao described the firm's performance for the year that ended on 31 March as "mixed".
The company had to write down the value of its assets in Germany, Spain, Portugal, Czech Republic and Romania by £6.6bn.
Vodafone faces "competitive, regulatory and macroeconomic pressures" in Europe, Mr Colao said.
Pressure from competitors, regulator-imposed price cuts, and a reduction in the number of calls European consumers made during the recession have all had an impact on revenues over the past 18 months.
In the last year group revenues fell to £43.6bn, down from £44.4bn the previous year.
Company shares were down just under 4% in early trading on Tuesday.