'Plebgate' police officer Susan Johnson dismissed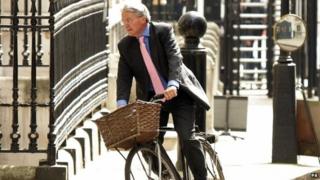 A policewoman has become the fourth officer to be sacked over press leaks related to the "plebgate" affair.
A Metropolitan Police panel found PC Susan Johnson had breached standards of professional behaviour in relation to honesty and integrity.
Three PCs have already been dismissed for gross misconduct.
Ex-cabinet minister Andrew Mitchell resigned in 2012 after a row with police officers who would not let him cycle through the gates of No 10.
The Conservative MP admitted swearing during the incident but denied swearing at officers or calling them "plebs".
PCs Keith Wallis and James Glanville and Gillian Weatherley have all been sacked this year for gross misconduct.
Wallis was jailed in February for 12 months after admitting a charge of misconduct in public office.
Ms Johnson, who was not on duty at the time of the dispute, was investigated as part of Operation Alice, which was set up by the Met Police in the wake of the controversy.
Operation Alice officers found text messages and a phone call were exchanged between someone closely connected to Ms Johnson and the Sun newspaper.
The team also found further evidence that Wallis emailed Ms Johnson a copy of an email that he had sent to his MP falsely claiming to have witnessed the incident at Downing Street.
Wallis later told Ms Johnson that he had a meeting with his MP, something she also failed to report to a senior officer.